In Home Discipleship Formation February 2023
Parts of the Mass: The Concluding Rite
Session February 22 & 26
Opening Prayer:
Begin the prayer with the Sign of the Cross.
Pray the prayer together if possible; if not choose a member of the family to read it out loud:
Loving Father,
Open our hearts to hidden realities:
your love for all people,
your presence in the community,
your call to justice and peace.

May the sacraments stir in us
that same love for those with whom we worship
and all members of our human family.
Christ Jesus,
Help us to imitate your example:
healing the sick,
welcoming the stranger,
assisting the poor and vulnerable.

May the sacraments remind us
of your love and self-giving,
which we strive to imitate.
Holy Spirit,
Make visible to our eyes what is invisible:
your call to your people,
your summons to live our faith daily
as witnesses of justice and peace.

May the sacraments move us
to engage in love-inspired action
that transforms us and the world.
Amen
Family Discussion Question
:
How do you make a difference in the lives of people with whom you encounter?
Catechesis:
We have received Communion together. We have prayed together. We have come to the end of the Mass. Now it is time to be sent out into the world to do the work of God that we prepared throughout Mass to do.  We are not sent out into the world as lone rangers but as a community of faith, unified in Jesus Christ.
Notice we are SENT OUT and not instructed to stay in the Church.  We are to take the Jesus we just received and go make the world a better, brighter place and glorifying God with our lives.
Mass is not something to attend; Mass is to be lived:  fully, consciously, and actively.
We are not passive participants but active members who have been gathered and sent to do God's work in the world.
Greeting after Communion             
Fr. Nonito greets with the following dialogue:
               Fr. Nonito:  The Lord be with you
               We respond:  And with your Spirit
Final Blessing
Fr. Nonito asks us to stand and he prays a blessing over us
Fr. Nonito/Deacon Dan:  Bow down and pray for God's blessing:  May almighty God bless you in the name of the Father, and of the Son, and of the Holy Spirit.
We make the Sign of the Cross and respond "Amen."
The Final Blessing of the Mass makes it clear that we are being sent forth, not in our own name, but in the name of the Holy Trinity:  the Father, and the Son, and the Holy Spirit.
Dismissal
Fr. Nonito or Deacon Dan send us forth using one of the following commands:
         Fr. Nonito/Deacon Dan:
Go forth, the Mass is ended.
                                                       Go and announce the Gospel of the Lord.
                                                       Go in peace, glorifying the Lord by your life.
                                                       Go in peace.
We respond:  Thanks be to God!
Sending Forth Song---just as we are gathered in song we are sent forth into the community with a song.
Just as Fr. Nonito, the servers, and readers processed in as we were gathered as a community; so to do they lead us out into the community so we can glorify the Lord with our lives.
We have been given marching orders to get to work in bringing about the Word of God to others.  Remember, we have been baptized to continue the work of God in the world.  We are sent out into the world to proclaim in word and deed the Word of the Lord.  We are sent in peace to share and spread peace to others.  The Mass sends us out to bring reconciliation to those whose lives are broken and chaotic.
Watch Video:
Understanding The Mass: The Concluding Rites
Video Discussion Questions:
When we are sent out into the world, Deacon Dan, or Fr. Nonito, says, "Go in peace, glorifying the Lord by your life." Discuss as a family.
How do you glorify God by your life?
How does knowing that you can glorify God in everything you do change your perspective on the seemingly small tasks and moments of life?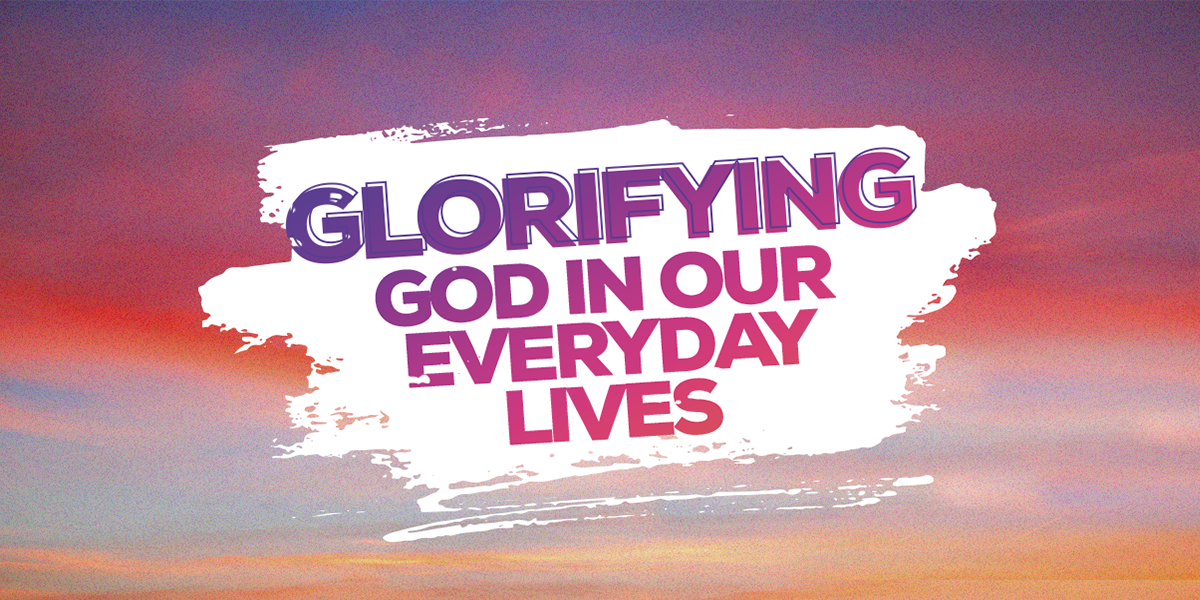 Five Ways You Can Glorify God with Your Life
Express gratitude to God joyfully---everyday when you wake up, or before you go to bed, thank God for the day ahead and all that it will present to you.
Read and heed his word daily---read a small scripture passage each day and possibly commit it to memory.
Connect with other Catholic Christians consistently---hang out with your Catholic friends and talk about what keeps you connected to God.
Serve people lovingly---that is what we are put on this earth for, to serve others.
Abide in Jesus persistently—each day find some quiet time (a few minutes) and just sit and talk to Jesus in your heart.
Closing Prayer:
Begin the prayer with the Sign of the Cross. Pray together or invite a member of the family to pray the prayer out loud:
Heavenly Father,
I desire to bring you glory in all I do.
This includes my family life, school, business, sports, and every area I am involved in.
Help me be honest about what is competing with you in my heart.
Give me the strength to let go of all I am holding onto tightly.
Burn away my idols.
Be the lover of my soul, not activities, people, and places.
When I eat and drink, may I acknowledge that every perfect gift is from you.
Be glorified through my gratitude.
Everything I have comes from you.
You've given me the strength to work, enjoy food, and love those around me.
Be glorified in these areas of my life. In Jesus' name.
Amen.  
Questionnaire: 
COMPLETE this session by taking a short Kahoot quiz with your family. 
Click the Kahoot button or "Click Here" for the Kahoot Quiz.
Please list the First Initial (of each youth) and Family Last Name as your "Nickname" for your family to be marked present for this session. 
Thank you!